All income earned in Singapore is subject to tax. However, the country has one of the most attractive personal income tax rates in the world.
The rates vary for resident individuals and non-resident individuals.
Tax residents
Tax residents are:
Singaporeans residing in Singapore
Singapore Permanent Residents who are residing in Singapore
Foreigners staying in Singapore for 183 days or more in the year before the YA.
The tax rates for residents are as follows:
Personal Tax rates for resident individuals for YA 2019
Chargeable Income
Personal Tax Rate (%)
On the first
On the next
20,000
10,000
0
2
On the first
On the next
30,000
10,000
–
3.5
On the first
On the next
40,000
40,000
–
7
On the first
On the next
80,000
40,000
–
11.5
On the first
On the next
120,000
40,000
–
15
On the first
On the next
160,000
40,000
–
18
On the first
On the next
On the next
On the next
200,000
40,000
40,000
40,000
–
19
19.5
20
On the first
In excess of
320,000
320,000
–
22
In addition, tax residents enjoy tax savings through tax reliefs, donations to IPCs (Institutions of Public Character) and certain expenses relating to the employment and business spend.
Singapore personal tax rates for non-residents
An individual is considered a non-resident for tax purpose if he is a foreigner who stayed or worked in Singapore for less than 183 days in the tax year. As a non-resident:
0 – 60 days – Employment income is tax exempt if the individual is here on short-term employment for 60 days or less in a year. This exemption does not apply for a director of a company, a public entertainer or exercising a profession in Singapore.
61 – 182 days – The individual is taxed on all income earned in Singapore (no personal reliefs apply). Income is taxed at 15% or the progressive resident rate, whichever gives rise to a higher tax amount.
Director fees, consultant fees and all other incomes are taxed at 20%.
Personal Tax Under the NOR Scheme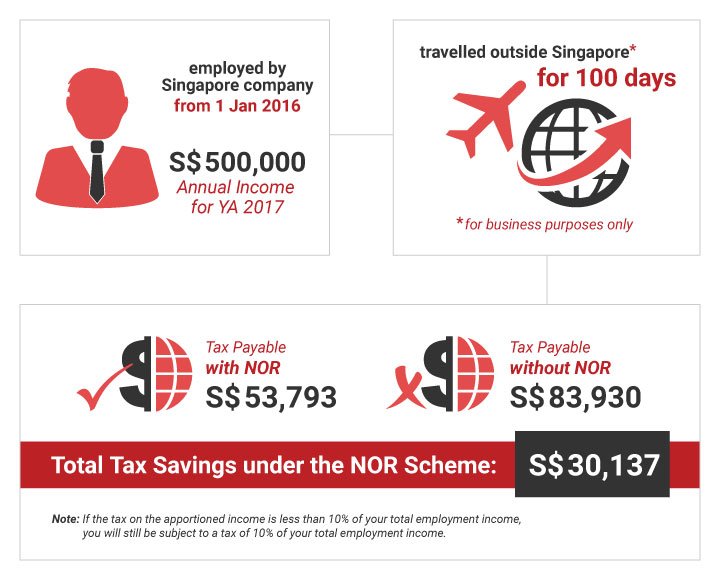 Need Support with your personal Taxes.
File your personal tax returns with Singapore Company Incorporation, one of the leading tax agents in Singapore. Our professional taxation specialists will work closely with you to reduce your tax liabilies and maximise tax savings.