Singapore has consistently been ranked as one of the world's top countries in terms of quality of living.
Be it tangibles such as healthcare, crime rate, educational institutions, infrastructure, housing quality, business opportunities, and unemployment levels. Or the intangibles such as racial harmony, a multi-cultural and multi-national society, and access to some of the best touristic destination in Asia. Singapore just stands out!
The city-state has rightly been proclaimed as Asia's business headquarters and the continent's best place to live, work and play.
Thus, obtaining a permanent resident (PR) status in Singapore, which may be your intermediary step towards obtaining Singapore's citizenship, makes sense. All the more when this PR status comes with Central Provident Fund benefits and a range of personal tax reliefs and subsidies. Like citizens, PRs in Singapore also have access to public housing, quality education and healthcare services at highly subsidized rates.
Did you know? As stated in the NPTD's Population White Paper, "A Sustainable Population for a Dynamic Singapore", the city-state will grant PR status to 30,000 eligible candidates and 15,000 to 25,000 citizenships annually.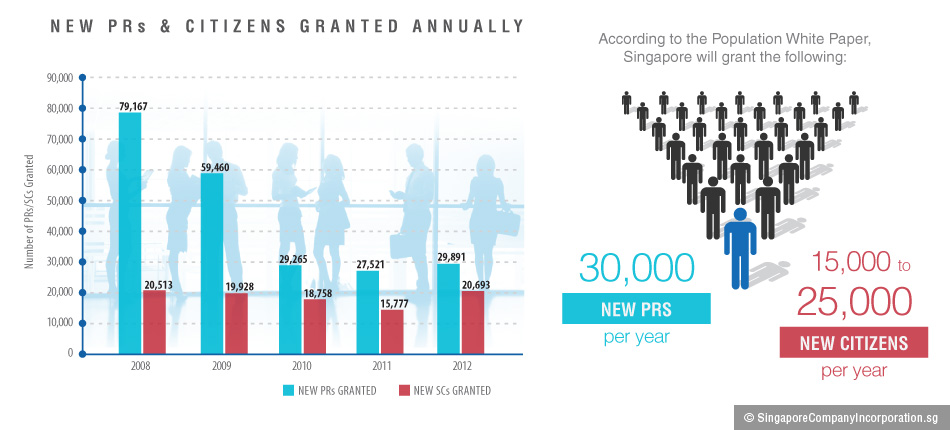 Read More » 2015 Demographics of Singapore PR
PR Application in Singapore
---
What are the Various Schemes Available for Singapore Permanent Residence?
There are three ways by which a foreign national can become a Singapore permanent resident:
Professional, Technical Personnel and Skilled Workers scheme (PTS scheme)
Global Investor Program scheme (GIP Scheme)
Foreign Artistic Talent scheme (ForArts)
Foreign Artistic Talent Scheme (ForArts) Scheme Introduced in 1991, and jointly administered by the Singapore Immigration & Checkpoints Authority (ICA) and the National Arts Council (NAC), the scheme is meant for outstanding international arts professionals to become Singapore PR in recognition of their cultural significance and contribution.
The eligibility for ForArts scheme in Singapore is that the applicant must meet all the following criteria:
relevant training/education and professional experience in their field of practice
outstanding achievements, in the field of performing arts, visual arts, literary arts, design and/or media
significant contributions to Singapore's arts and cultural scene
a strong track record of local engagements at leadership level
concrete future plans to be involved in Singapore's arts and cultural sector
Do note that like any other PR application, ICA is the final authority even in PR applications made through the ForArts scheme. The success rate under this scheme is also not very high.
---
Eligibility Criteria for Singapore PR
Under the PTS Scheme and GIP Scheme, the following categories of foreigners can apply for permanent residence in Singapore:
spouse and unmarried children (below 21 years old) of a Singapore citizen or PR
aged parents of a citizen
employment pass and S pass holders (includes personalized employment pass and entrepreneur pass)
investors or entrepreneurs meeting eligibility criteria under GIP
---
Processing Time for a PR application in Singapore
According to the ICA, the "normal processing time for PR application is four to six months while some applications may take a longer time to process".
---
Below, we detail the two main schemes for obtaining Singapore permanent residency.
Professional, Technical Personnel and Skilled Workers (PTS) Scheme
This is the most preferred and popular scheme for becoming a Singapore PR among holders of the city-state's employment pass, S pass, entrepreneur pass or personalized employment pass. Estimates say that more than 95 percent of professionals attain their PR status through this scheme.
Notably, an applicant's spouse and children aged under 21 years may also apply for Singapore PR status together with the applicant. But male dependents will be liable for Singapore National Service once they are granted permanent residency.
National Service Liability
ICA says: "Under the Enlistment Act, all male Singapore citizens and PRs, unless exempted, are liable to register for National Service (NS). Following the completion of full-time NS, they will be required to serve up to 40 days of Operationally Ready National Service (ORNS) per year for the duration of their ORNS training cycle till the age of 50 years (for officers) or 40 years (for other ranks)."
Thus, while applicants who become Singapore PR are exempted from NS, their male children who are granted PR status under the applicant' sponsorship are liable for NS under the Enlistment Act.
Authorities in Singapore are also very strict against those NS-liable PRs who want to escape their NS liability.
"Renouncing or losing one's PR status without serving or completing full-time NS would have an adverse impact on any immediate or future applications to work or study in Singapore, or for Singapore citizenship or PR status. Males who are granted Singapore PR, and who were previously Singapore Citizens or Singapore Permanent Residents, are liable to be called up for NS regardless of the type of PR status they have been granted," says the ICA.
Tips to make a successful PR application under the PTS scheme
First and foremost, applicants with relevant skills, educational qualifications, and professional and financial background matter in securing a Singapore PR.
What generally helps is:
if the applicant belongs to a niche industry that requires personnel with specialised skills-set to function
if the applicant's skills-set compliments the local work-force and not compete with it
if the applicant is under 50 years of age
if the applicant has obtain his or her qualifications from reputable institutions
if the applicant has family ties in Singapore
if the applicant does voluntary work and contributes in general to his neighbourhood and local community
if the applicant has worked in Singapore for at least 12 months before applying for Singapore permanent residency
Leaving aside all the marketing gimmicks and false claims, remember that there is no magic formula for obtaining a Singapore PR. Unlike countries such as Australia and New Zealand, Singapore doesn't have a points system for judging the PR applications.
But SCI can help you put your best foot forward and increase your chances of convincing the authorities of your value to Singapore manifolds.
---
Global Investor Program scheme (GIP scheme)
The Global Investor Program is an initiative launched by Singapore Economic Development Board (EDB) and Ministry of Manpower (MOM). It is a program for individuals and entrepreneurs who are keen to invest in or initiate new business activities in Singapore, and in the process, obtain Singapore permanent residence. Spouses and children of investors are also eligible for Singapore permanent residence.
NS liabilities of PRs obtained under the GIP are the same as those obtained under the PTS scheme.
Eligibility for GIP Application in Singapore
An investor can submit a GIP application if:
he has a substantial business track record; and
a successful entrepreneurial background
If the eligibility condition is met, the applicant can choose from among the two GIP investment options:
Option A: Invest at least S$2.5 million in a new business entity or expand an existing business operation in Singapore
If the applicant is choosing this option, a detailed five-year business or investment plan with projected employment and annual financial projections is also to be submitted. Importantly, the applicant is required to fulfil the milestones outlined in the business or investment plan within five years of the date of investment.
Moreover, the applicant's entity must be engaged in any of the following industrial sector:
Aerospace Engineering
Alternative Energy/ Clean Technology
Automotive
Chemicals
Consumer Business
Electronics
Energy
Engineering Services
Healthcare
Infocomm Products & Services
Logistics & Supply Chain Management
Marine & Offshore Engineering
Media & Entertainment
Medical Technology
Nanotechnology
Natural Resources
Safety & Security
Space
Shipping
Pharmaceuticals & Biotechnology
Precision Engineering
Professional Services e.g. consulting, design
Arts Businesses

Visual arts businesses, e.g. auction houses, art logistics/storage
Performing arts businesses

Sports Businesses
Family Office & Financial Services
Option B: Invest at least S$2.5 million in a GIP-approved fund that invests in Singapore-based companies
Assessment criteria for a GIP application in Singapore: Once the applicant has chosen either of the above two options and made the GIP application, the authorities judge the application on the following four criteria:
Applicant must possess at least three years of entrepreneurial and business track record and must produce audited financial statements of his or her company for the last three years.
Applicant's company turnover must be at least S$200 million in the year immediately preceding the application, and at least S$200 million per annum on average for the three years immediately preceding the application.
The applicant should submit the financial statements of his or her company with the highest turnover. He or she may also consolidate the businesses, all of which must only be engaged in one or more of the approved industries to meet the minimum turnover criteria.
If the applicant's company is privately-held, he or she should have at least 30 percent shareholding in the company. The applicant's role in the company, as well as the growth and profitability of the company is also taken into consideration.
---
Validity of Re-entry Permit of an approved GIP application
An successful GIP applicant is issued a Re-Entry Permit (REP) for five years upon the approval of his PR status. This enables the applicant to retain the PR status while travelling in and out of Singapore. But do note that after these initial five years, the REP renewal, for either three or five years, is subject to the following conditions:
3-year renewal:
GIP candidate must have fulfilled the investment conditions under either Option A or Option B of the GIP; and
Either have set up a business in Singapore with at least five Singaporean employees and have incurred at least S$2 million in total business spending a year;
Or fulfil the minimum residency period (at least 2.5 years) by either GIP candidate or at least one dependent, who is also a PR under GIP.
5-year renewal:
GIP candidate must have fulfilled the investment conditions under either Option A or Option B of the GIP; and
Have set up a business in Singapore with at least five Singaporean employees and have incurred at least S$2 million in total business spending a year; and
Candidate and dependents who are also PR under GIP, must have resided in Singapore for at least 2.5 years.
---
PTS versus GIP – Obtaining Permanent Residency in Singapore
Gone are those days when getting a PR in Singapore used to be easy. Nowadays the Immigration and Checkpoints Authority of Singapore (ICA) is looking for only those persons who are willing to call the city-state their home. This has resulted in a big percentage drop in PR application approval rates in recent years.
While nobody can guarantee a Singapore permanent residency, SCI's professional team, which is well versed in making PR applications, and appealing if at all these applications are rejected, can help you put your best foot forward.
Do remember that PTS is the fastest and most preferred way to attain Singapore PR.
Under GIP, permanent residency is more or less guaranteed, but the scheme is only for the super-rich, who have the capability of total business spending of more than S$2 million in Singapore every year.
Our experience has been that PTS residency applications take anything between two weeks to two years, while GIP applications normally take six to twelve months. But the GIP process has more hassles, and requires more forms/plans/interviews to be taken care of.
A general trend we have noted is the longer you have lived in Singapore and the more you have contributed to the society, the greater are your chances of getting a Singapore PR.
Use the other available immigration options such as Singapore Employment Pass, Personalised Employment Pass or the Entrepreneur Pass, to shift to the city-state and work towards Singapore permanent residency.
Also, if you belong to proximate regions such as Malaysia, your chances of success are very high. ICA believes that with Malaysia and Singapore sharing similar culture, background and history, Malaysians have a better chance of integrating into the Singaporean society.
One particular exception is when a person applying for Singapore PR has a male child, for whom the permanent residency is not been applied for. As second-generation PRs in Singapore are liable for National Service, the ICA doesn't look favourably at such applicatios, and are most likely to be rejected.
As ICA receives thousands of PR applications every month and even though you feel qualified to be a Singapore permanent resident, your application may still be rejected. This because unlike countries such as Australia and New Zealand, Singapore doesn't declare its points system for judging the residency applications. But engaging a professional residency service provider like us can increase your chances of convincing the authorities of your value to Singapore manifolds.
Finally, if you like living in Singapore and are willing to call it home for the rest of your life, you can apply for Singapore citizenship. All Singapore PRs who have completed their two years of residency are eligible for Singapore citizenship.
Related Reading » Incorporation of a Company in Singapore
The fact about Singapore Permanent Residence applications.
We hope you enjoyed reading our PR blog and statistics.
In Singapore, the PR application process is like striking the lottery. While some applicants believe that using a PR agency to assist with the application will maximize their chances, the fact is we can't.
But the great news is if you study the PR statistics carefully, you'll understand the probability of success. Thus, the best course of action is for you to submit a straightforward online application. We wish you the very best!