When you open your own company, you do not need a large amount of space. This is why coworking is perfect for startups. It allows people from different organizations to work independently in a shared workspace. No, it is not about working in a café. Coworking spaces are appropriate work environments that are conducive and well-wired. All you need is your laptop, handphone, charging devices, and you are good to go.
Do not mistake coworking spaces for compartmentalized office cubicles. Coworking spaces in Singapore, which have been existent since 1995 are modernly designed with couches and well-stocked pantries with steaming hot coffee. Some coworking spaces in Singapore even have swimming pools and spas! However, there are better reasons why you should consider coworking for your startup company.
Save Money
With rents for office premises skyrocketing in recent times, coworking spaces are clearly way more affordable for entrepreneurs. This allows you to save cost on typical overheads like photocopiers, printers, and broadband service, without compromising on working in a great strategic office location. Coworking thus brings great value for the money and provides your business with an optimal work environment infused with the necessary infrastructure. Imagine being relieved of expensive rentals, long leases and hefty deposits!
Helps You Be Disciplined
Many new entrepreneurs who work from home suffer from the lack of discipline due to multiple sources of distraction in their surroundings. On the other hand, coworking surrounds you with other people who are also dedicatedly working. This compels you to focus your mind at the work in hand and helps you to develop a degree of discipline. This is very important for entrepreneurs as they can concentrate on improving their business without wavering their focus.
Professional Environment
If you are planning to run your own business, you must treat it professionally. Discussing about your company's strategy in a bustling café does not cut it. Coworking spaces are quiet and private for business meetings, and provide free and speedy Wi-fi connection unlike those at libraries and coffee corners. Such a professional atmosphere will not only increase your productivity and efficiency, but also seek to instill a good attitude towards work, and that is a crucial metric for success.
Networking
Coworking spaces are gold mines of opportunities for networking. It is inevitable that when ambitious entrepreneurs congregate in these spaces, they would eventually and organically connect with each other to forge synergistic collaborations. These valuable connections can assist you to merge talents and resources to tackle major projects that a startup typically may not be able to do so. Thus coworking spaces are dynamic platforms to expand your business network and tap the entrepreneur community for inspiration.
Highly Accessible
Coworking spaces are notorious for being very flexible in their working hours. You can start as early as 4am or work through the wee hours of the night. Privileged members of coworking spaces are entitled to utilize them round the clock all 7 days a week. With Singapore being ranked 3rd in the list of the most popular technology destinations for professionals after the US and the UK, it is no wonder that numerous coworking spaces are sprouting all over the island. This means you can save not only money, but also save time and gas commuting to cowork than to a traditional office in the busy CBD area.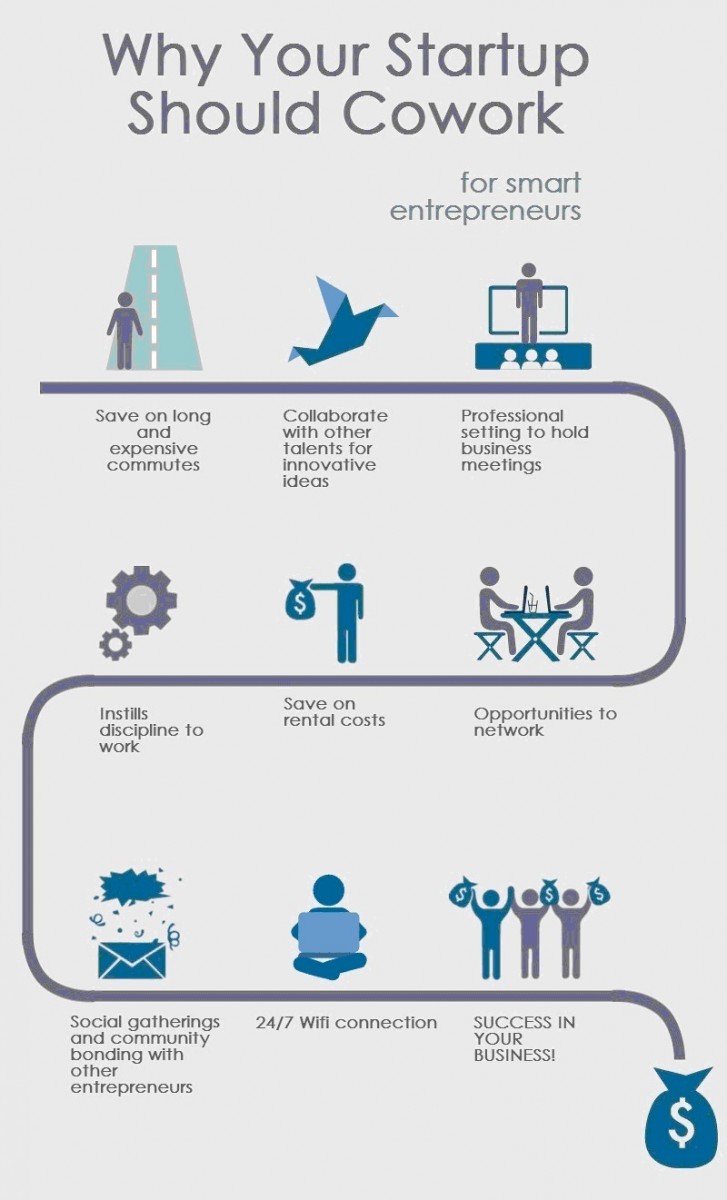 So now that you have figured out how to save cost on rent, do you want to know how else you can cut cost and maximise your productivity and profits? Visit the page on Productivity and Innovation Credit Scheme for more information!
Related Reading » Regulations on Singapore Office Rent to Support Businesses
---
Incorporate a startup in Singapore quickly and easily
Singapore Company Incorporation is the leading force in company registration in Singapore. With a gamut of services including Work Visas & Relocation, Accounting & Taxation, Business Licenses, Company Secretary and Trademark Registration, we are well-positioned to support your business.