Business-incubating infrastructure, tax incentives, cash grants, or financing schemes; everything that a new company desires, Singapore has it. In fact, the Government has recently rolled out several initiatives to propel the nation towards a thriving start-up ecosystem.
To get ahead of the fierce global competition for talented entrepreneurs, Minister of State for Trade and Industry Mr Koh Poh Koon announced the launch of Startup SG in March 2017.
Startup SG is the umbrella branding unifying all the support schemes for startups in Singapore. Essentially a launch pad for entrepreneurs by providing them a platform to access local support initiatives as well as connect to the global entrepreneurial network, Startup SG is your go-to one-stop source for loans, grants, funding and capability-enhancement.
The Government, meanwhile, has also overhauled the EntrePass work pass scheme with further enhancements to the evaluation criteria in a bid to facilitate the entry of global entrepreneurial talent into Singapore.
This came at the backdrop of significant increase in the number of start-ups in the country over the last decade or so. The number was 48,000 in 2015, as compared to 22,000 in 2003. And with recent developments where the authorities have extended more support to start-ups in terms of funding and talent, this number is bound to increase even further, adding to Singapore' reputation as a regional hub for start-ups.
So if you have decided to be a part of the city-state's vibrant startup ecosystem and incorporate a company in Singapore, below is the exhaustive list of all the governmental support you can receive here.
The platform provided by the said initiative caters to every possible permutation of a start-up ecosystem, and is categorised under six different pillars:
It provides mentorship and start-up capital grant to first-time entrepreneurs with innovative business ideas. Under this, SPRING, which matches $3 for every $1 raised by the entrepreneur, has appointed Accredited Mentor Partners (AMP) whose job is to identify qualifying applicants based on the uniqueness of business concept, the feasibility of business model, strength of management team, and potential market value.
It is aimed at providing early-stage funding to companies for the commercialisation of proprietary technology and includes both Proof-of-Concept (POC) and Proof-of-Value (POV) grants depending on the technology's developmental stage. Do note that this is a competitive grant, which tech start-ups can use to fast-track the development of their proprietary solutions and generate a scalable business model.
This scheme – where the Singapore Government co-invests in a start-up along with third party investors – is aimed at encouraging and stimulating private-sector investments into innovative, Singapore-based technology start-ups with intellectual property and global market potential. With regard to the co-investment ratio with third party investors, it is 7:3 up to $250,000, and 1:1 thereafter up to the investment cap of $2 million for general tech companies. The figures for deep tech companies are 7:3 up to $500,000, and 1:1 thereafter up to the investment cap of $4 million. But the Government only co-invests if the interested third party individual or corporate investors are prepared to invest at least $50,000 each, and are able to contribute to the start-up's growth via management experience, relevant business contacts and necessary technical expertise.
Importantly, this pillar of Startup SG is managed by SPRING SEEDS Capital (SSC), which is the investment arm of SPRING Singapore. It co-invests with independent investors in commercially-viable Singapore-based start-ups with innovative and strong intellectual content that are scalable across international markets.
SSC has already pledged up to $100 million to groom high potential Singapore-based deep technology start-ups and is calling for co-investment partners in the domain areas of Advanced Manufacturing and Engineering (AME), as well as Health and Biomedical Sciences.
This scheme provides funding and non-financial support to incubators and accelerators working in strategic growth sectors to further enhance their programs and expertise in nurturing successful start-ups. The funding support includes partial operating expenses such as salaries of the incubation team, hiring of mentors and experts to guide start-ups, and expenses in developing programmes to help start-ups develop new products and services, obtain business financing, and improve market access.
Related Reading » Singapore Incubator Schemes for Startups
Startup SG Talent
This pillar includes schemes such as EntrePass, T-UP and SME Talent Programme (STP) for Start-ups. EntrePass is a work pass scheme to facilitate the entry and stay of global entrepreneurial talent in Singapore, which can complement the country's local skill-sets and contribute to a more vibrant high tech start-up ecosystem. T-UP or Technology for Enterprise Capability Upgrading – is aimed at helping businesses build in-house R&D capabilities by accessing the pool of talent from A*STAR's Research Institutes. It subsidises up to 70 percent of the secondment costs of research scientists and engineers for a period of up to 2 years. SME Talent Programme (STP) for Start-ups is run by Action Community for Entrepreneurship (ACE), where it provides 70 percent subsidy in stipends paid to interns, and in turn, assists start-ups in building their human capital development capabilities.
While offered through participating financial institutions, these are Government-backed loans, which provide start-ups with much-needed working capital, equipment/factory financing and trade financing. These include SME Micro Loans – for companies with 10 or less employees, which can access working capital financing of up to S$100,000 to support their day-to-day business operations; SME Venture Loan – for high-growth companies, which can access alternative financing of up to S$5,000,000 for the purpose of business expansion; SME Working Capital Loan – in place between June 1, 2016, to May 31, 2019, start-ups can access unsecured working capital financing of up to S$300,000 to support their day-to-day business operations; and SME Equipment and Factory Loans – start-ups can access financing of up to S$15 million to purchase equipment, machines or selected factory properties.
While Startup SG is the "umbrella" covering all-you-need-to-know about start-up incorporation advantages in Singapore, there are few additional not-widely-known benefits as well, which are listed below.
Related Article: 6 Startup SG Pillars You Have To Know
The AITD is for suitable and approved angel investors who commit a minimum of $100,000 in a qualifying startup. The angel enjoys a tax deduction of 50 percent of the investment at the end of a two-year holding period. Do note that for each year, the eligible investments will be subject to a cap of $500,000, and the corresponding maximum tax deduction will be $250,000.
The FSTI scheme is launched by the Momentary Authority of Singapore (MAS) to provide support for the creation of a vibrant ecosystem for innovation, under which the Authority has committed S$225 million over a five-year period. The scheme is to attract financial institutions to set up their innovation labs in Singapore, support the building of industry-wide technology infrastructure, as well as catalyse the development of innovation solutions.
Under FSTI, there is a sub-scheme called FSTI-Proof of Concept (POC). Under this, MAS provides funding support of up to 50-70 percent of qualifying costs, up to a maximum of $200,000, for up to 18 months. This support is available to Singapore-based Financial Institutions (FIs), as well as technology or solution providers working with Singapore-based FIs for the early stage development of innovative solutions to financial industry problems.
4) Capabilities Development Grant (CDG)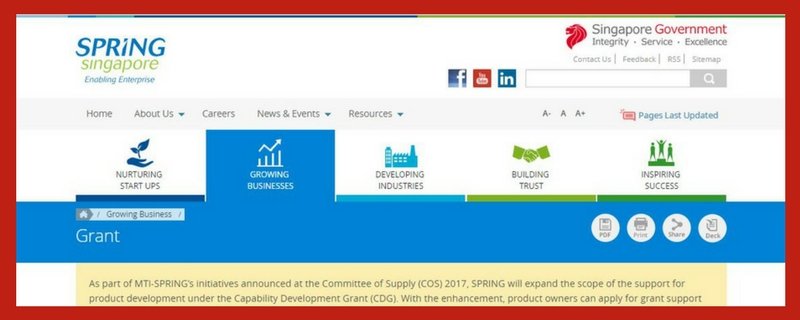 This is a financial assistance programme designed to help start-ups/ SMEs build their capabilities across 10 key business areas. Companies can use the scheme to subsidise up to 70 percent of qualifying project costs including consultancy, training, certification, equipment and software costs. These initiatives must lead to increasing productivity, process improvement, product development, human capital development, business model transformation, and better market access.
Information below is for reference only. Kindly note that PIC Scheme has expired as at YA 2018.
PIC is an initiative under the Inland Revenue Authority of Singapore, which allows businesses to enjoy 400 percent tax deductions up to $400,000 or 60 percent cash pay-out up to $100,000, for investments in innovation and productivity improvements. The six activities covered under PIC include R&D, registration of IP, acquisition and in-licensing of IP, acquisition or leasing of prescribed automation equipment, training of employees, and approved design projects.
Related Article: Singapore productivity and innovation credit pic scheme
6) Innovation and Capability Voucher (ICV)

This is a simple to apply, easy-to-use voucher valued at $5,000, to encourage start-ups/ SMEs to develop their business capabilities. Companies can use the voucher to upgrade and strengthen their core business operations through consultancy in the areas of innovation, productivity, human resources and financial management. Each start-up/ SME is entitled to a maximum of eight vouchers, and the duration for each project should not exceed six months.
ESVF is an initiative under the National Framework for Innovation and Enterprise. Through ESVF, NRF invests $10 million on a matching basis, to seed corporate venture capital (VC) funds that invest in Singapore-based early stage high-tech companies. Notably, the VC has the option to buy out NRF's share of the fund within five years by returning NRF's capital with interest.
Related Reading » New Venture Capital Fund Management Criteria by MAS
8)
Business Improvement Fund (BIF) 
The BIF is open to all Singapore-registered businesses/companies embarking on projects with a clear tourism focus, and is thus run by the Singapore Tourism Board (STB). It aims to encourage technology innovation and adoption, redesign of business model and processes in the tourism sector to improve productivity and competitiveness. Funding support is awarded based on STB's evaluation of the scope and merits of the project. While successful SME applicants receive funding support of up to 70 percent of qualifying costs, non-SME applicants receive funding support of up to 50 percent of qualifying costs.
9)
Building Information Model (BIM) Fund 
This fund, under which companies can apply for up to $30,000 funding, is to encourage wider adoption of BIM collaboration among the built environment industry firms by subsiding part of the cost incurred in training, consultancy, software or hardware.
Finally, if you are a Singapore-registered company and are stepping into a new market or deepening your presence in an existing one, International Enterprise (IE) Singapore offers a suite of assistance programmes. These are listed below.
10) Double Tax Deduction for Internationalisation (DTDi)
Companies expanding overseas can enjoy tax savings with DTDi, which provides 200 percent tax deduction on eligible expenses for supported market expansion and investment development activities.
11)

Market Readiness Assistance (MRA) Grant

 
Also, available is the MRA grant of up to 70 percent of eligible third-party costs, which cover activities such as overseas market set-up, identification of business partners, and overseas market promotion.
12) Global Company Partnership Grant
The GCP Grant helps companies defray eligible costs of their overseas expansion projects in capability building, market access and manpower development.
13)
International Marketing Activities Programme (iMap)
iMAP supports overseas business missions and Singapore Pavilions at international trade fairs. Companies who are participating in iMAP approved activities will receive support of up to 50 – 70 percent of eligible core expenses such as rental of exhibition space, booth construction cost and fair/mission consultancy expenses.
Closing Note
The above is just a brief overview of all the assistance start-ups get when they incorporate a company in Singapore. Additional benefits available to all companies in Singapore include low corporate tax rates, tight intellectual property rights regime, skilled manpower, and good connectivity to emerging markets of Asia.
Suffice to say, if you want to build your dream company, Singapore is the place to be.
And when you decide to do so, just note that SCI's expertise in Singapore company incorporation is unmatched. There is a reason we have helped establish over 10,000 business entities in the last two decades of operations – choose us to be your corporate services partner.
Related Reading » Company Registration in Singapore
---
Access capital and get funding
Tap into our network of banks, private equity firms, venture capitalists and angel investors.